Yesterday I was priviledged to listen to Steve Wazniak "the inventor" of the personal computer as he spoke to 2000 IT professionals.  I expected it to be a good presentation… what I didn't expect is that it would absolutely blow me away! WOW!  His personableness and authenticity … his child like passion and creativity…. the story and connection of his childhood pursuits and passions to adult achievements … I just wanted my family, especially my teenagers, to be sitting right next to me so they would know - "If you do whatever you choose to do - with this same level of passion and commitment..you will be successful and happy at the same time.  (I wish everyone of you could have been there too).
Wherever smart people work, doors are unlocked.  ~ Steve Wozniak
I'd learned enough about circuitry in high school electronics to know how to drive a TV and get it to draw - shapes of characters and things. Steve Wozniak
At our computer club, we talked about it being a revolution. Computers were going to belong to everyone, and give us power, and free us from the people who owned computers and all that stuff.  ~Steve Wozniak
One of his rules to live by: Think about something, design something of your own. How can you make it better, think smart, make it more direct, more simple. Never be satisfied, challenge yourself. Prepare yourself, give yourself a competitive edge over those people and put in the hard work! 
And of course he was wearing the coolest watch we had ever seen.  I found out it is called a "Nixie" watch.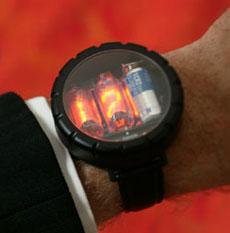 Here is a few words from the makers website.  (Made individually by one guy)
The Old Cathode Corner Nixie Watch is the perfect way to show your retro-geek cred. It is a two-digit wristwatch using Nixie tubes, a forty-year-old display technology that is delightfully easy to read.
The watch requires no button-pushing to operate. Just hold the watch at your standard viewing angle, and the hours, then the minutes, will appear in perfectly-formed, 14mm tall, glowing orange digits.
It is water resistant and rugged. The case is machined from aircraft aluminum and hard anodized to handle years of abuse and still look great.
What they're saying
"A timepiece such as this could make grown geeks cry." -Engadget
"I would have loved to have invented that."  -Steve Wozniak, co-founder of Apple
I was back stage and because of my MC duties unable to take notes - but a new friend Damian shared his with me.  I am not sure they will have much value to you…but I wanted to share them anyway.
Key Note Speaker 1: Steve Wozniak Unplugged
A highly driven person from a very young age, building his own computers with electronics. Reading books, teaching himself and learning how to carve out his own computer inventing the PC. Was trying to go through iterations of the PC with less parts, simplifying the solution and reselling it to the hardware vendors back in the day. Talks about his meet up with Steve Jobs as kid while building machines. 
He talks about using his home TV as an "open source" resource to use its electronics and hook its technology into the computers he was building. 
The Apple 2 computer was his massive home run. The colours in the logo represented the achievements over his life at that stage in technology and electronics. 
Came up with the concept: simplicity = high availability.
Steve W talks about his business relationship with Steve Jobs and how they formed a company. Interestingly enough he briefly talks about his Steve Job's personality and attitude changed in his early 20's where we wanted to be one of the world's biggest leaders.
Steve talks about articulating and diagnosing technical issues on the phone with a customer. The technical support person is the "man in the middle" often like a doctor trying to diagnose the issue.
Apple 1 - open sourced the invention
Apple 2 - closed!
Apple 3 - open sourced again. Applications started to be developed for the PC. This was the business man's machine. New technology, better but had a lot of problems and didn't have a big success rating! 
Talks about have a 1-2 year lead on their competitors when they where working on the original iPod. He thinks the iPhone was the greatest product produced by Apple (iPhone 4). He doesn't like how Apple control the software release process into the apple store. 
Talks about processing speed of a computer isn't the key, its the human mind that finds a way to get the "job" done. He talks about computers are not there yet, they have not replaced the "human brain" but it may get there. Looking for answers the internet wasn't designed to be a "brain" its evolved that way. What do we do when we want knowledge? We "google" it.
Social Networking, neat hardware for the new generation. His advise, we still need smart people! People moving into computer science, you need to work hard at it if you want to make a difference. Believe in yourself and what you stand for. Loves seeing young people build their own companies. Start with the little things that don't have a lot of value and build on it. Forming the "home run" idea! 
Steve talks about the "mobile apps" now on our devices that help mould our lives. Apps that can help us, look at what can help people's lives! Thats how you can develop in the mobile world! Make an app easy and simple! Just like a help desk, its got to be a simple service, easy to use! Drives adoption! He puts such a heavy emphasis on "simple". 
The project that has him most engaged right now, he is so busy travelling giving speeches. Trying to keep up with technology, reading, buying gadgets and trying things himself. keeping up with modern technology. He has a lot of ideas, little time. 
He is now involved with http://www.fusionio.com - grown big and fast! Something to look at. He is the Chief Scientist. 
In reflection of life, everywhere he goes he sees young people trying to find a place in a digital world! Moscow Russia are building their own " Silicon Valley ". He is hoping they succeed.
One of his rules to live by: Think about something, design something of your own. How can you make it better, think smart, make it more direct, more simple. Never be satisfied, challenge yourself. Prepare yourself, give yourself a competitive edge over those people and put in the hard work!